Alternative Pain Management Methods

---

Laser Therapy
Here at Ironstone Veterinary Hospital, we are now offering state of the art companion laser treatment! Laser therapy is non-invasive, is a great alternative to surgery, and can greatly reduce a patient's dependency on pain medication. Laser therapy utilizes a deep-tissue penetrating light source that accelerates the body's natural healing process and decreases pain and inflammation. Laser therapy can be used to treat arthritis, post-surgical pain relief/healing, ear infections, geriatric care and many, many other conditions.
---
This is Becky Perambo, she had been dropped this morning and unable to use her hind legs. She is wearing goggles in preparation for her first treatment.
This is Becky before the treatment. She does not want to walk or even bear weight on her right hind leg. She is very unhappy.


This is Becky immediately after her first laser treatment! Not only is she using her hind legs, but she is much brighter too!


---
Ollie Chrusch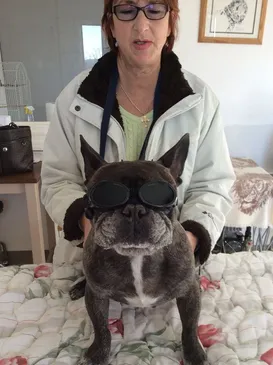 This is an example of the laser therapy process. Notice how comfortable Ollie is?
His entire treatment today took less than ten minutes.
As his mommy says, "He acts like puppy, especially after his laser treatment!"

Call us Today to Schedule an Appointment at
If you are wondering if these alternative pain management methods can help your pet, give us a call today!