Right now, I have taken a hiatus from breeding Neapolitan Mastiffs, and consequently, I have none for sale. However, my friend Tom Bell has a litteer of puppies born January 17, 2014. You can contact him at 215-499-1840.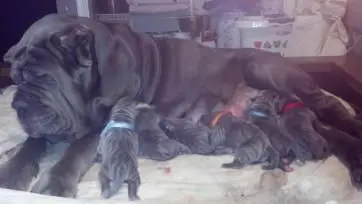 This is a photo of his bitch Bella right after having the puppies.
Here is a picture of one of Bella's puppies at 4 1/2 weeks of age. If you are interested in any of the puppies, call Tom Bell, phone number above. This was posted Feb 27, 2014.
In the meantime, I am leaving the pictures of other Ironstone progenitors on this page because they are pictures of lovely dogs.
---
Head shot of Ironstone Giorgio, who is the father and grandfather of many of the dogs pictured here. This photo was taken Feb 2006.
Here is another photo of Giorgio at 5 1/2 years of age, Feb 2006.
---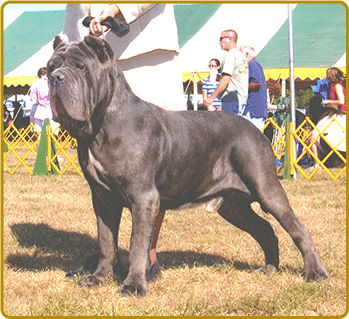 This is Ch. Gonfiezza Baby Face Alfredo, owned by Sharon and Charles Costello. He is the father of Romulus and Remus.
---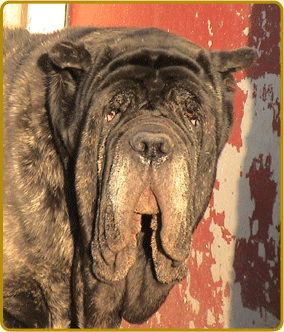 This is Ironstone Wynona at 5 years of age. She is now about 9 years old and going strong. She is the matriarch of current Ironstone dogs.
---
Ch. Ironstone Lillian, pictured here at 2 yrs old, is a granddaughter of Wynona. Her father is Ch. Ironstone Giorgio, and her mother is Ironstone Zylvia. She is a half sister to Ironstone Mafioso, aka Bellagio. He was the Neapolitan Winner at Westminster Dog show in 2006. Lil is following in his footsteps as a show winner. She is owned by Deb Kinzinger.
---
This is Ironstone Mafioso aka Bellagio owned by David and Chris Gross.
He is a son of Sophie and Giorgio and was the 2006 Neapolitan Mastiff winner at Westminster.
---
We currently don't have dogs for sale, but we do have horses for sale – Warmbloods, Lusitanos, and Quarter Horses.
If you are interested in purchasing a horse, please go to Horses for sale, or call Sherilyn Allen at 610-367-6446.