The following are photos of horse bred, owner or sold by Ironstone.
This is Kimono, Andalusian stallion, he is now in Florida.
This is Amantillada, 7 yr Hanoverian (1998 foal) out of Hesper and by Absolute. She has been sold to Alexandra Taft.
This is Obviously diversified, otherwise known as Brownie. She is out of BL Miss Diversified and by the Clue Express. She is the mother of Lobdolly Pine, and Aerialist, who is by the Hanoverian Akatschi. Picture of Aerialist is below.
Amantillada, photo taken by Clotilde Peters.
Amantillada and her 4 mos old daughter, Alleluia, by Akatschi, galloping in perfect synchrony, July 2003.
This is Alleluia as a yearling, April 30, 2004. Very special.

Alleluia, 4 yr. Hanoverian mare by Akatschi and out of Amantillada. She was bred to UB 40, Dutch stallion owned by Iron Spring Farm. She had a foal March 16, 2008. She has since been sold.
| | |
| --- | --- |
| Alleluia's colt, Donum Dei at 1 hour after being born | Alleluia's colt, Donum Dei at one day old |
This baby colt is beautiful, huge, and most importantly, calm, curious, and sweet.
This is Alleluia's colt at 3 days of age. His name is now Donum Dei, and we call him GQ for short.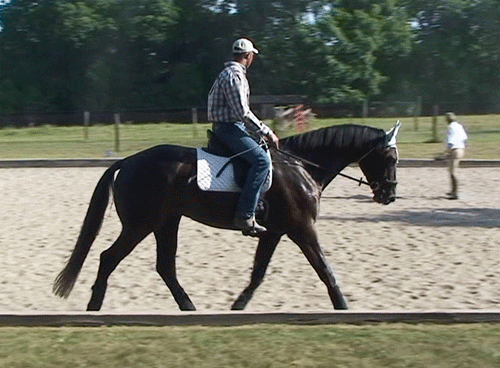 August, 2011. Here is GQ (Donum Dei) at 3 years of age. He was huge as a baby, and is huge now at 17′ 1″. He is shown here after just being broke to ride. Flavio, who is over 6 feet tall is riding him. GQ is bred for dressage, but he is so big and powerful, and loves to jump back and forth over the stream in his pasture that he might be an Open Jumper. He is very fancy, very conformationally correct, and has the aura of a great horse about him.
This is Donum Dei (GQ) in March 2012, when he turned 4 years of age.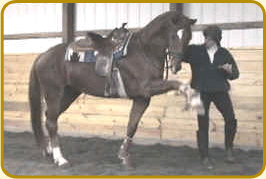 This is Fabio, 4 yr old Westfalen gelding. He is doing his Spanish Walk. We sometimes play with him in a Western Saddle though he is bred to be a dressage horse. He is by Florestan I out of States Prem mare Piroschka by Palisander. He is very talented for upper level dressage.
Here is Aerialist as a two year old. He is out of Obviously diversified and by Akatschi. He has been sold as a hunter jumper.
Here is another photos of Allelulia.
Photo of Aerialist at 2 years olds of age.
Amantillada doing piaffe in pillars, Dec 2005
Photo of Aerialist at 2 weeks of age.
Granus, 28 year old former Intermediaire II and Grand Prix dressage horse. He is the true king of his Ironstone domain. The young horse whipper-snapper-would be-kings challenge him over the fence. But Granus, true king that he is, holds his ground, stares at them, and in so doing, drives them crazy. If you think horses do not have personalities, then come to Ironstone and observe for yourself all the goings on among them.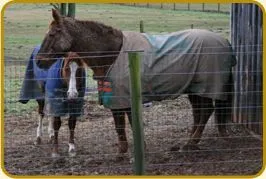 28 year old Granus is shielding 2 year old JD Maximus from the elements.
Kimono, Andusian Stallion
Fabio doing piaffe under the direction of Master horseman Jean-Claude Barry
Photo by Clotilde Peters October 2006
Here is Fabio roaming his field.
Fabio is running around enjoying himself.

The Union Man, also known as Romeo, 2004 gelding by Doll's Union Jack out of Jac's Little Glenda. He is reining and cutting bred, and loves to do both. Of course, he also has elementary dressage training and is great on the trails as well. Cow work is his love. He is an exceptional horse, multi-talented, great work ethic, and kind personality. He is for sale to someone who can appreciate a great horse.

This is the Union Man doing some cow work.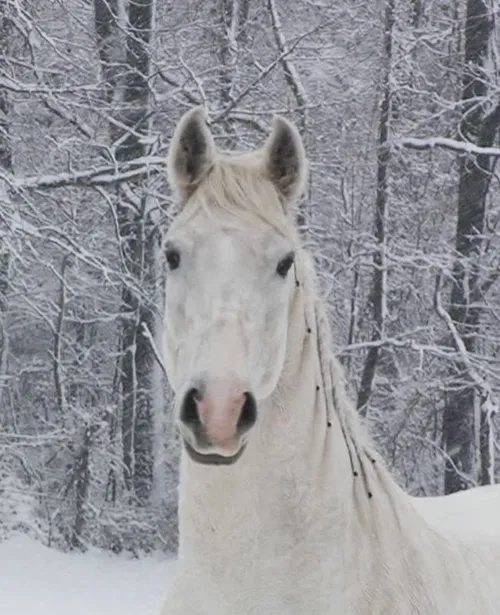 Here is Bizet on a beautiful winter day.
Bizet enjoying the winter scenery
Please contact us if you are interested in any of our horses.