Here are more photos which have been taken over the past couple of years at Ironstone. They are representative of the dogs we produce or use in our breeding program. As more photos are added, they will be further down on the page, so look past the top pictures. Please contact us if you are interested in learning more about obtaining puppies.

Fortunato

Wanda – 1 1/2 yr old daughter of Ironstone AyishaXFruit d'Amour Fortunato This photos was taken in 1999. She is a sister of Wynona.




Wanda

Ironstone Wynona – 1 1/2 yr old daughter of Ironstone Ayisha X Fruit d'Amour Fortunato. This photo was taken in 1999. Wynona subsequently had 3 litters of puppies over a 3 year period, the last litter being 11/14/2002 when she was over 4 years old. She had a total of 14 puppies, for an average of 4.5 puppies per litter. Not a whole lot of puppies. She was not bred by me fter that.




This is Orso at 9 years of age, before he died in November, 2002. He was a good dog. He got very thin and lost all his mass, but he kept on going until I decided it was time to put him down. Something so commonplace for me in my work, is certainly an emotional upheaval when it is my own dog. I guess God has to keep sending us veterinarians reminders of what it is like for our clients. Orso's spirit will never die.


Wynona is back at Ironstone after her unintentional touring around the United States with false identity created by those who thought they would profit from a gift.

This is Ironstone Lilly at one year of age. She is out of Ironstone Zylvia and by Ironstone Giorgio. She was a year old this Aug 2004. Very extraordinary and beautiful female. She has correct conformation, she is sound, and she has magnificent type. She is owned by Debra Kinzinger. She is a granddaughter of Wynona.

Here is a body shot of Ironstone Lilly at one year of age.
This is Ironstone Zylvia, daughter of Wynona and Fruit d'Amour Terrone. She is owned by Deb Kinzinger. She is the mother of Lillian

This is Ironstone Theodoro at about 1 1/2 years of age. He is a brother to Ironstone Bella Principessa and a son of Gonfiezza Rasmussen out of Mountain Ilena. He is a very large dog, now in Canada and siring puppies.



This is Amica, daughter of Bellagio and Mountain Egypt. She is 2 yrs old and for sale. Photo taken 5/17/07.

A head shot of Amica, taken 5/17/07.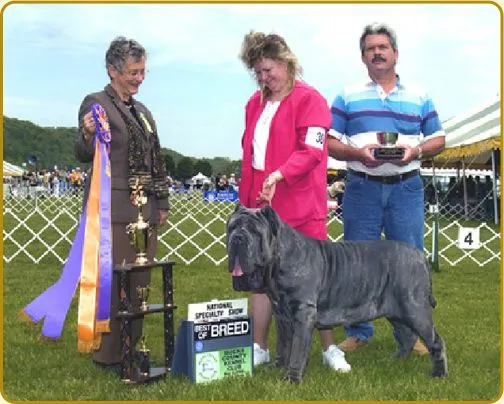 Ch. Ironstone Lillian at USNMC National Specialty, Buck County Kennel Club show, May 6, 2006. Photo by JC Photo. Thank you Judge Rita Biddle, Esq. for the BOB win.

Pictured with Judge Biddle are Denise De Acosta, handler, who adores Lil, and Lil's owner Russel Kinzinger. Unfortunately, Lil's other owner, Deb Kinzinger could not be present for the show or the dinner afterwards.
Lillian is an extraordinary Neapolitan Mastiff. Her conformation is superior, her type is wonderful. She is completely sound of body and mind. I cannot find a fault with her. She is the dream dog every Neapolitan mastiff breeder hopes for. Her success in the show ring is due mainly to the care, devotion to her, and love from her handler and owners.